Access All Areas members have a great set of Procreate brushes to download this week, courtesy of Riveros Illustration. This Graphite and Charcoal brush set contains 25 brushes made specifically for drawing realistic portraits. These brushes will help you create pieces that look and feel like traditional media with the wonders of the digital era! Made from real-life textures, this is as close as it gets to the real thing, without getting your fingers dirty! Also included in the download is a free 190-page eBook tutorial that provides useful tips and tricks for drawing digital portraits using Procreate.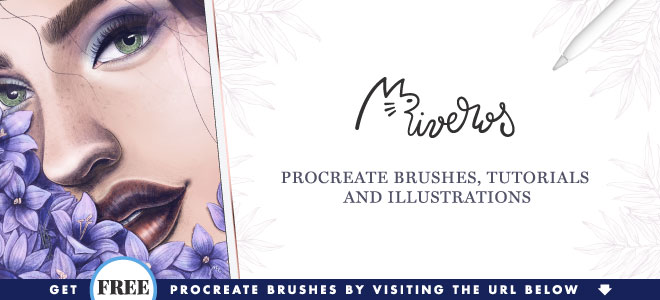 Claudia Riveros is the talented artist behind Riveros Illustration who creates useful digital products to improve your drawing skills. In her store, you will find Procreate brushes, tutorials and illustrations, all with a wonderful hand-drawn style. Get a FREE sample from her latest Procreate brush set, and receive early bird discounts on new products by following the link below.
Find out more about Riveros Illustration
Graphite & Charcoal Procreate Brush Set

This versatile Graphite & Charcoal Brush Set for Access All Areas members contains 25 Procreate brushes, with specific tools for sketching, texturing and filling so you can easily go from sketch to a final piece in one go. Learn how to use your new artistic tools with the help of the bonus eBook tutorial, which teaches you everything you need to know to create amazing, realistic portraits from scratch.