Access All Areas members have a huge collection of more than 200 old engraving illustrations to download this week, courtesy of Benjamin Babron. Sourced from a French catalog of printing plates from the early twentieth century, everything in volume 9 is themed around hunting, military and firefighters. Images include depictions of weapons, prey, trophies, hunters, soldiers, helmets, coats of arms and more, all in an authentic engraved illustration style.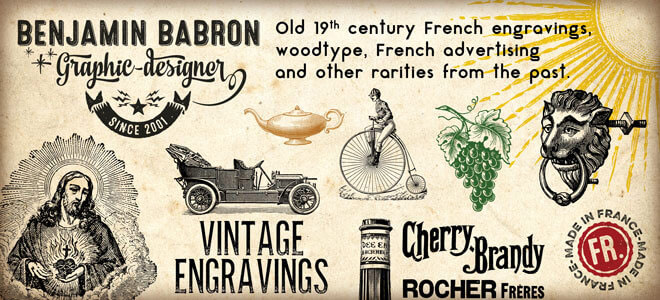 Benjamin Babron—a collector of old documents, antique books and print wood types—opened his Creative Market stall to share a rich heritage of graphic printing plates with graphic designers around the world. In the form thematic volumes, Benjamin offers old engravings of food and wine, the Catholic religion, animals, initials, sunbursts, old cars, household objects, etc. But also additional packs from various sources featuring rubber school stamps, old locomotives, fashion engravings, compasses and technical drawing equipment. Discover the store of Benjamin Babron and all its treasures of the past to use in your future creations.
Find out more about Benjamin Babron
Vintage Engravings for Premium Members

This collection of vintage engravings is supplied as high resolution 2400ppi, 18500 x 25500px sheets of graphics in TIFF format to allow the user to isolate the required images using Adobe Photoshop (or other image editing software). The files are also saved in Bitmap mode, which converts the white areas into transparent backgrounds and allows the user to change the colour of the graphics directly in Adobe Illustrator and InDesign.