Winter Blues Photo Effect Actions – $10
These Winter Blues photo effects are designed to complement your cold and snowy photographs by enhancing cloudy skies and converting boring overcast greys to subtle cool hues. There are 10 Actions to choose from, each with a different style that best suits a specific type of image, but they can all be used to enhance your pictures with interesting effects all year round!
Buy My Winter Blues Photo Effect Actions – $10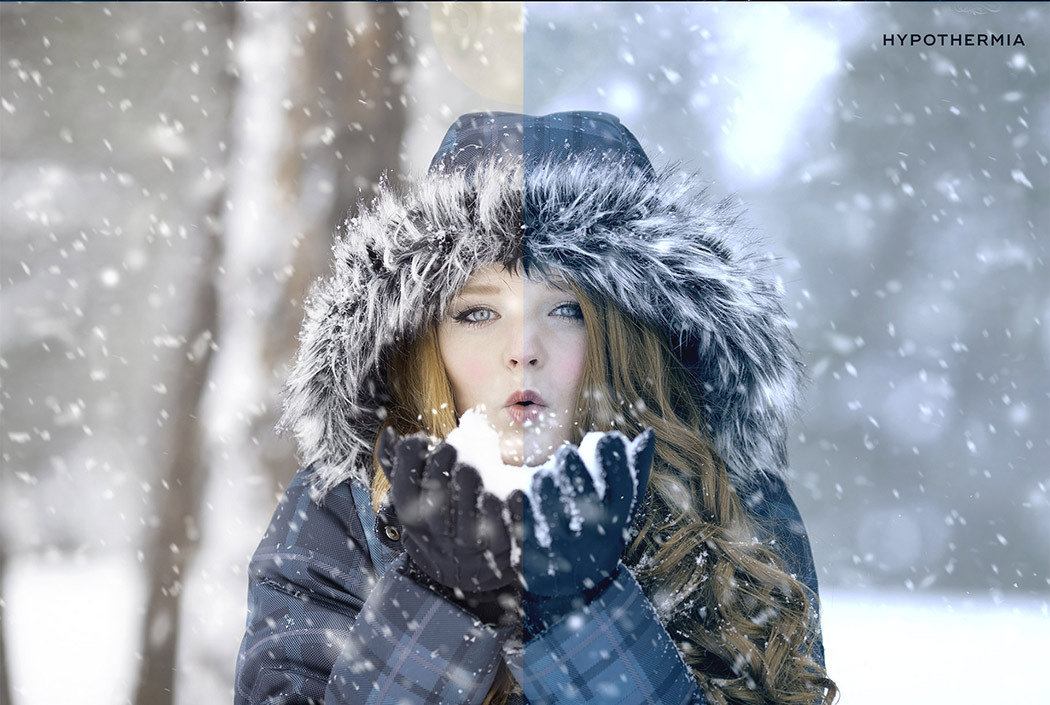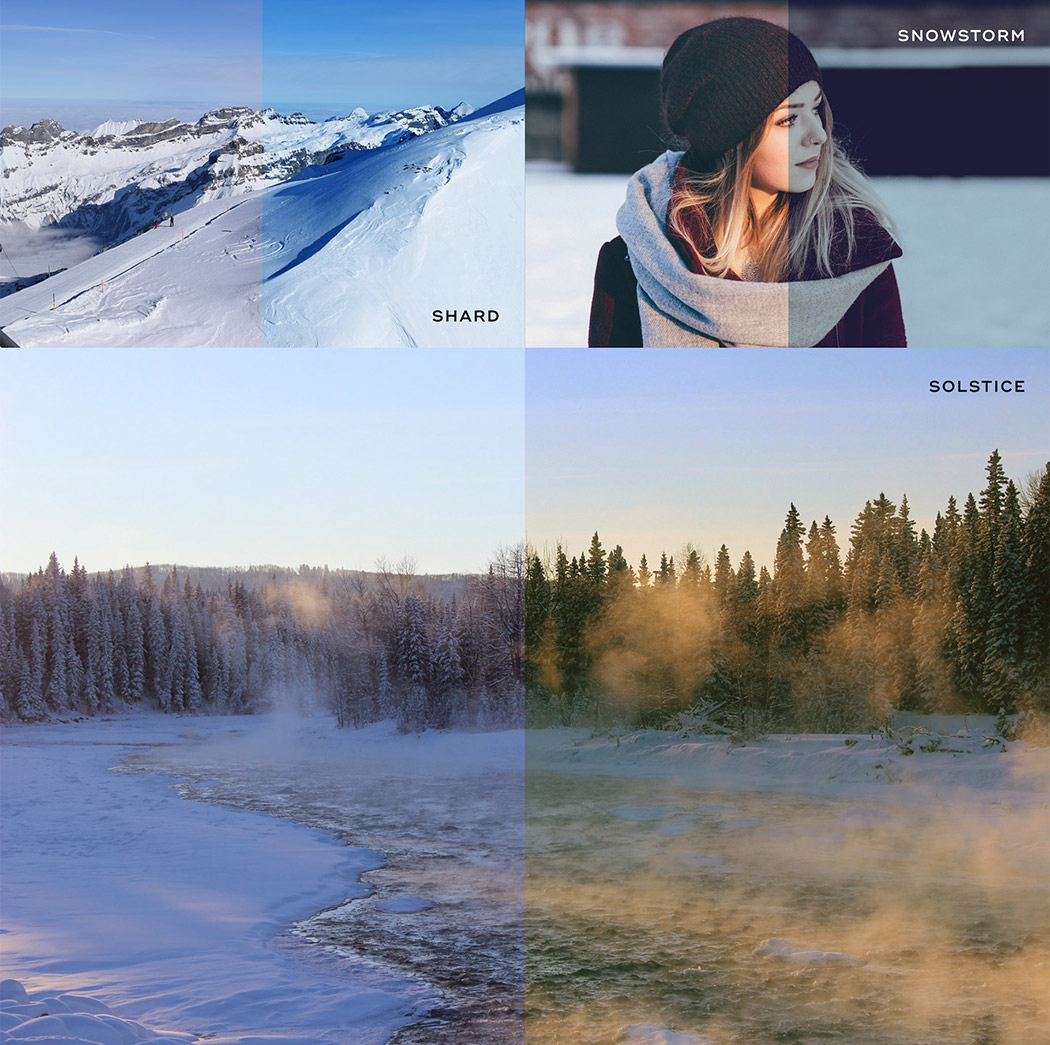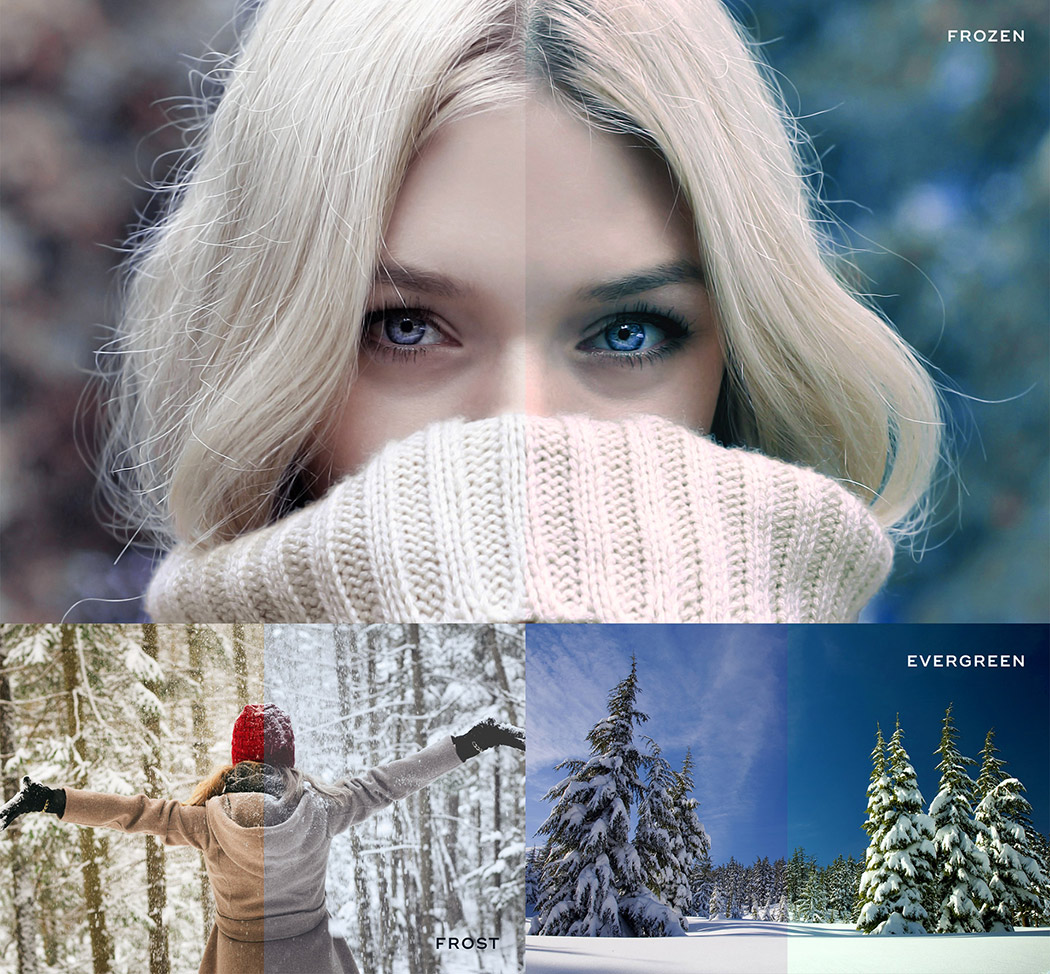 What's included?
– 10 Winter Blues Photo Effect Actions
Compatibility:
.ATN Files are compatible with Adobe Photoshop. in the Actions panel, load the set under the Load Actions menu.
How to use:
Load the downloaded .ATN file into Photoshop, then choose one of the 10 Winter Blues recordings and press the Play icon in the Actions panel to process your image with a range of preset adjustments. To fine tune the result, adjust the Opacity of the Group to tone down the impact of the effect, or dive into the adjustment layers and manually change the settings.
Hypothermia
Reduces the temperature of your photographs with cold blue hues.
Shard
Applies a sharp cyan overlay with high contrast adjustments.
Wonderland
Mixes deep blue shadows with golden highlights to enhance wintry landscapes.
Glacier
Combines low contrast adjustments with a fresh glacial turquoise colour cast.
Frost
Leaves a covering of bleak blue-grey tones with a strong matte effect.
Evergreen
Picks out any remaining greenery from trees and foliage in landscape shots.
Snowstorm
Darkens images with a deep blue colour cast and low contrast adjustments.
Solstice
Brings out the warm tones of photographs taken with a low sun in clear skies.
Frozen
Intensifies bright cyan blue colours for a cold but vibrant photo effect.
Blizzard
Forms a dark mood with washed out colours and deep blue shadows.